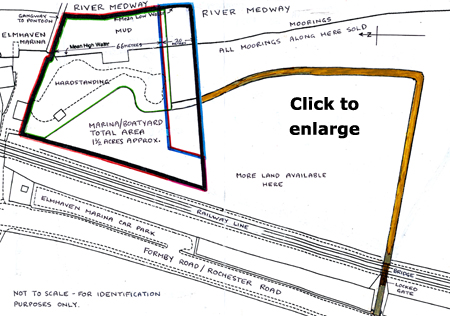 PRICES AND FREEHOLD PURCHASE
The price for the freehold of the marina site (outlined in red on the plan) is £185,000. It has full registered title. It is possible to reduce the river frontages and the price. Conversely there is more land available if required.
A non returnable deposit of £200 sent to our solicitors will secure the land and a contract to purchase will be sent to you or your solicitor if you nominate one. From receipt of the contract you will have not less than one month in which to sign and exchange the contracts and pay 10% of the purchase price. There will be no vat on the freehold purchase. Completion of the purchase will take place approximately one month after exchange of contracts. The remaining 90% will then be payable and you will receive the title deeds.
After contacting us to reserve your section, please send the £200 deposit QUOTING LAND AT HALLING AND YOUR NAME to - Jarmans Solicitors, Bell House, Bell Road, Sittingbourne, Kent, ME10 4DH. Please note, This address is only for the deposit. All enqiries and questions should be made directly to us and not to the solicitor.