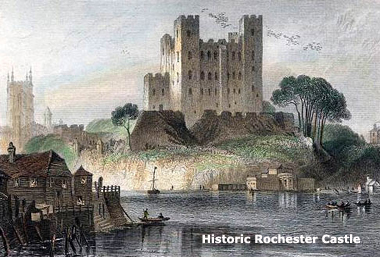 CRUISING AREA AND POSITION
Your clients have the option of cruising upstream through Allington lock, onto the non-tidal Medway to Maidstone and then tranquil cruising to Tonbridge. Or downstream and within 3 miles come to the Medway towns which provide every facility, are steeped in fascinating history and have a combined population of over 250,000. The height under Rochester Bridge at low water springs is about 9 metres (30 feet). Water and jet ski-ing are very popular on this river.
The lower Medway leads to the huge, varied and sheltered cruising area of its many creeks and those of the River Swale. Slightly further afield you have the River Thames, the canal system or the open sea. On the landward side, the village of Halling is nearby. Its railway station is just over half a mile away and buses run in Formby road.