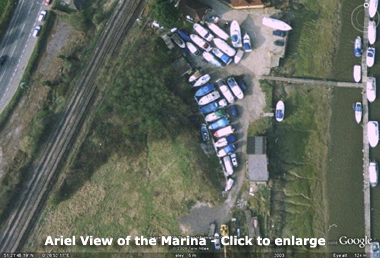 MARINA, BOATYARD AND MOORINGS SITE
Here is a never-to-be repeated chance to buy a Marina/Boatyard, with residence permission, for only the price of a house.
The site for sale is over half of the existing marina shown in the ariel photograph and known as Elmhaven Marina. It has now been split into two parts. The two parts have always been in separate ownership. The newly separated part can have any name, including yours, e.g. SMITH'S MARINA AND BOATYARD. This part is now largely empty and photo taken at low water shows how it was used when occupied. The walkway to the pontoon is now off our site, further north (up in the photo).
There is a Plan under "Prices". The area for sale is edged in red and is around 1.5 acres of which the area edged green is around 3,700 square metres (40,000 square feet or nearly 1 acre) and has full and permanent permission for use as a marina facility including storage, sale and repair of boats, mooring of boats, storage of equipment, vehicle parking and permission for mooring a residential houseboat. More land is available if required. The land coloured blue is now sold.
There is direct road access, but with a height restriction of 2.1 metres, so boats higher than this have to come by water.
Most unusually, the riverbed down to low water is included in the title. The river pontoon lies outside of our ownership and is not included, although our riparian rights extend past it to the centre of the river.
The boundary with the existing marina is lightly fenced.
There is a high demand for this kind of facility and it has been virtually full for many years. The Medway Towns are only three miles away and have a combined population of over 250,000. The M2 motorway to London is only two miles away.
The owners of Elmhaven Marina recently reduced their services and decided they did not wish to rent this section any more, so it has become vacant.
The present frontage is 62 metres (205 feet). The frontage and riverbed down to low water has always been underused but has the potential for a considerable increase in income in the form of mud berths.
The houseboat (it looks like a chalet bungalow in the photographs) has now been moved to the other part of the marina and is for sale separately. It would make an ideal owner/manager residence or could be replaced with another houseboat. There is full planning permission for a residential houseboat, including one that is clearly a static residence, such as this, and these can be bought very cheaply when they do not have a secure mooring with residential permission.
There are up to another 2 acres of connecting land available at a reasonable price if required.